Author's Corner
M. John Sterba, Jr., the chairman and founder of IMA, has written a book on investing entitled "Fundamentals of Personal Investing". The book, published by the American Bar Association, is intended for anybody interested in learning about investing and becoming an effective investor.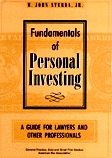 Although the subject of personal investing is extensive and can be sometimes complicated, John has written the book to be very user friendly and practical. It includes a reader's guide, chapter summaries, many illustrations, and an extensive number of endnotes. If you are interested in learning more about this book or would like to order a copy you may be able to do so at, e.g., online book retailer Amazon.com.

Here's what people have said about the book:
"A lucid and comprehensive yet succinct tour through the fundamentals of modern investment practice. A notable achievement."
John H. Langbein, Chancellor Kent Professor of Law, Yale Law School Reporter & Principal Drafter, Uniform Prudent Investor Act
"John Sterba's book should be a real help to investors. He clearly explains the most important things to know, particularly for mutual fund investors. A first-rate job!"
Charles R. Schwab, Chairman and CEO, Charles Schwab & Co., Inc.
"This volume is a well-organized and thoughtful guide, with a practical perspective about the best approach to long term investing--the intelligent use of mutual funds. Every Lawyer who tries to read manage his or her own investments should find this book extremely helpful."
Philip R. Lochner, Jr., Senior Vice President, Time Warner, Inc.; former Commissioner, U.S. Securities and Exchange Commission