Independent and Objective Investment Advice for Nearly a Quarter of a Century
Why Invest Your Money with IMA?
Your Investments Are More Important Than You Think
Over your lifetime, the money you earn through investing should be substantially greater than a lifetime of savings from work, no matter how big or small your annual income is!
Below is a graph showing a typical lifetime cumulative savings pattern, cumulative returns from investing and cumulative net worth when assuming the savings are invested at a conservative 7% annual return rate: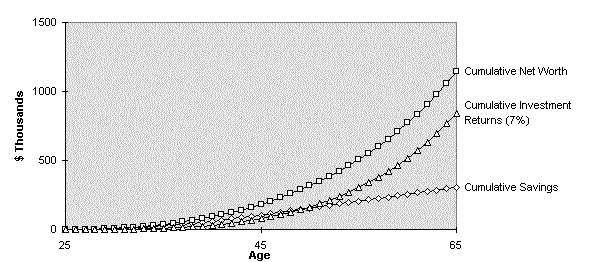 *This illustration is not intended as a demonstration of past performance of any particular investment or to demonstrate the experience of any individual investor or group of investors. The figures shown are for example purposes only, are simplified and do not take into consideration numerous real-world factors such as spending, taxes, and inflation. Past performance does not indicate future results.
In the example, investment returns account for 73% of one's ultimate net worth while accumulated savings from earnings amounts to only 27%. Thus your investment decisions are crucial to your financial future.
The importance of your investment decisions suggests the need for the assistance of an experienced, professional investment manager.
Click here to continue.